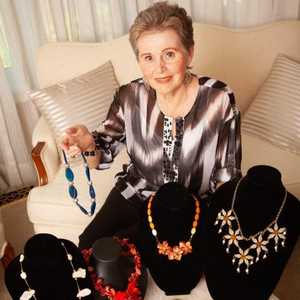 Elegance By The Duo
Established 2004 - Barrie, Ontario
Phone: 1-705-737-5294
Address: Barrie, Ontario
View on Google Maps
About Us
Pickup Info
Shipping Info
Wecome to 'Elegance by the Duo'
As an artisan for the past 16 years at the Barrie Farmers' Market I always try to create unusual and one of a kind items using various media.
My photography represents years of travel photos and nature photos. From capturing the annual migration of the magnificent Churchill polar bears , chasing the African elephants in the dark of night in South Africa, photographing the panda bears in China or the illusive loon on Mississauga Lake , I have loved it all!
My jewelry represents years of designing, giving workshops, doing one on one classes and the love of creating.
My 'nuno' felted scarves, purses, and animals represent a time consuming ancient technique of Japanese felting.
My hand dyed, hand painted silk scarves turn out some interesting and unique pieces of art.
Perhaps something will catch your eye.
A gift for that someone special...or...perhaps for yourself!
Thank you for visiting my site and taking the time to read about me.
Bernadette